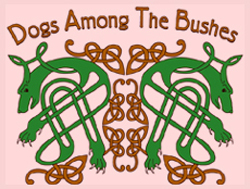 Borrowing their name from an old piping tune, Dogs Among The Bushes has been surprising audiences on two continents with their innovative sound since the 1980s. The interplay between string and wind instruments, driven by the intricate bass lines and powerful vocal harmonies, has become the Dogs' trademark. While the band makes its own arrangements of traditional Celtic music, adding some of the energy and feel of rock & roll, they also feature the original compositions of C.B. Heinemann and Charlie MacVicar. These songs and tunes are deeply rooted in Celtic traditions, which lend them a rich power and timelessness. Geoffrey Himes of the Washington Post said their songs ". . . are among the best Celtic folk rock numbers coming from either side of the Atlantic."
Dogs Among The Bushes has also appeared with internationally known artists such as Fairport Convention, The Battlefield Band, Paddy Keenan and Frankie Gavin, Andy Irvine, Dar Ar Bras, In Tua Nua, and Luka Bloom. Their independently released recordings have recieved critical and popular acclaim, and selections from their recordings have been played on the radio across the United States and Europe.
The Dogs continue to explore musical possibilities with a growing collection of original compositions inspired by music from around the world. They an also dip into their vast repertoire, as the occasion requires, to play crowd-pleasing songs or ceilhi dance music. The Dogs invite you to open your ears to the unique sound and offbeat humor that draws applause where ever they perform.
The Dogs Themselves
After performing in clubs, festivals, and concerts, Dogs Among the Bushes became the first American band to be invited to take part in the international Lorient Interceltic Festival held in France - the world's largest music festival. They have also performed in Germany, Switzerland, Italy, Luxembourg, Austria, the Czech Republic, and Ireland. For the past few years they have performed extensively in the Washington/Baltimore area, and have long been regulars at the historic Cat's Eye Pub in Fells Point, Baltimore. They have also appeared in Baltimore at the 8X10, Max's On Broadway, European Union, Ryan's Daughter, and Mick O's. In Washington they have appeared at Four Green Fields, Nanny's, and the 9:30 Club. They play every fourth Wednesday of the month at the Cat's Eye Pub.
C. B. Heinemann (vocals, 12 and 6 string guitars, bouzouki, banjo, mandolin)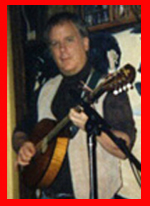 C. B. began performing with jazz and rock groups at the age of twelve. At seventeen he helped form country-rock group Sleaze, which performed all-original music, including his own compositions. Later, his interest in traditional Irish and English music led him to join The Ancient Orphic Mystery Band, which went on to tour the United States, releasing an album on Troubadour Records. He was a featured accompanist on Fintan Vallely's album, "Traditional Flute Music of Ireland," on Shanachie Records. He also played in Haggis, one of Washington's new traditional Irish bands, and later joined Reeltime, a popular group based in Baltimore which released an album on TOB Records. In the 1980s he and Charlie MacVicar formed Dogs Among the Bushes. The City Paper called C.B. a virtuoso, and Dirty Linen called his playing, Fantastic - the guitar work is great.'
Charlie MacVicar (vocals, uillean pipes, flute, tin whistle, harmonica)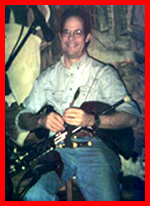 Charlie's playing is deeply rooted in traditional music, which started with his love of bluegrass. While a student at Frostburg State College, he played with the bluegrass group Smokin' Grass. After hearing piper Finbar Fury, he began attending traditional Irish music sessions in Washington, DC and Baltimore. An accomplished multi-instrumentalist, Charlie has played with some of the finest musicians in the world, and can be found at many music sessions in the DC/Baltimore area. While touring with the Dogs in Germany, he was asked to record a song with rock legends Nazareth. He spent many months in Ireland, learning and mastering the uillean pipes, as well as performing all over the country. Charlie was even featured on one of the Irish segments of Rick Steve's Travels in Europe series on PBS.
Bob Young (bass)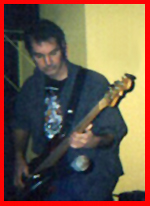 Bob began his musical life as a guitarist, playing with Sleaze and other groups. After taking up the bass, he played and toured with The Ancient Orphic Mystery Band. He later played with punk band The Dark, and performed with Dceats at their final performance. For many years he played with DC icons Tru Fax and the Insaniacs. His innovative bass style has helped define the Celtic bass sound.
A Long Way
Their most recent recording features original compositions by C.B. Heinemann and Charlie MacVicar. Cold Rain, The Banishment, The Wormhole, and the title track have become audience favorites, while Blackwater Side/Sailing Into Walpole's Marsh shows off their virtuosity and unique approach to traditional music. You can pick up a copy at one of the Dogs upcoming gigs, or check out cdbaby.com, where it can also be purchased.
Listen to the Dogs performing A Foolish Song, the first track on A Long Way:
A Foolish Song
Band Alumni
There have been many fine musicians that have come and gone throughout the years in the Dogs Among The Bushes. Rob Kilgore was a founding member back in the 80's and still plays with the group now and then. Myron Bretholz was in the group for a brief stint as the bodhran player. Myron ran the Irish radio show for WGTB out of Georgetown University and is still very active in the Irish community. Fiddler Terry O'Neil was a member of the band Congress back when he joined the Dogs. Other's not pictured are Robin Bullock and Pete Ryan who toured with the group in Europe. Mark Matarese played bass with the Dogs for a brief period and Bob Rickert also played banjo.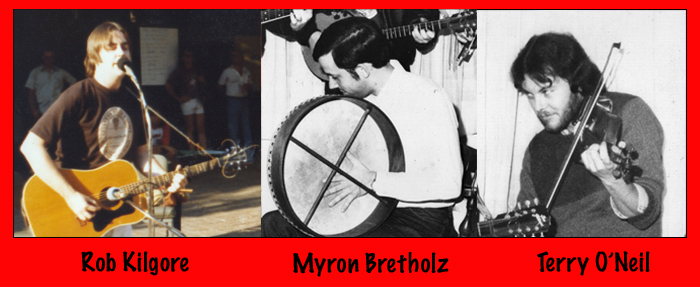 Contact Information
The Dogs Among The Bushes are available for bookings. We have promotional materials and a demo we can mail to you. Feel free to contact CB at the following phone number and email address:
CB: 301-725-7144
email: doginbush@yahoo.com
Purchase your own copy of A Long Way
The Dogs Among the Bushes latest CD, A Long Way, can be easily purchased through CD Baby
http://cdbaby.com/cd/datb
Get yourself a copy TODAY!