I've been playing guitar since I was 10 years old. For years I only had the requisite 2 or 3 guitars and these guitars were put through the mill - they were played heavily. I still have one of these guitars - The Kapa Frontier my Dad and Andy Korbe bought for me at Veneman's Music back in 1966 when they were located on Georgia Avenue in Silver Spring, Md. Things sure have changed since then, and I've been collecting and playing vintage guitars since the early 90s. I've gotten pretty adept at finding rare vintage instruments and always have an eye out for the guitars I fell in love with as a youngster, and anything new and used that I've come across on my musical journeys.
There was always music around the house when I was a kid. My Mom used to be in a harmony group much like the Andrews Sisters. We had an upright piano that was always being monopolized by my Mom and sisters. It was tough finding practice time so my Dad bought me my first guitar back in 1964 (a Kingston with a faux tiger striping finish). George was a country music lover and he enjoyed coming to the local clubs to see his boy play guitar every now and then. I never realized until I was older what a huge music lover Dad was (We listened to the Opry together on Saturday nights). I named the instrument collection in his honor. After all, I wouldn't have all these great instruments if it wasn't for George Linson Kilgore (Marian too!).
George L. Kilgore
What a great shot of my Mom and Dad! George was born in London Ohio back in the 20's, and grew up on a farm. He was driving a truck when he was about 8 years old and that began his life long fascination with automobiles. He could literally listen to your car and tell you which spark plug had gone bad. Great ears which were worn down through the course of his 78 years by working around drills and air guns. He sure did love country music. I never knew how blessed I was until years later when I somehow knew the words to many of Johnny Cash's recordings as well as Porter Wagoner and Buck Owens. He was always watching these guys on TV, so I just naturally sat with him and watched and listened. I helped him when he got an old radio receiver from WWDC that they were throwing away. He brought it home and put it on a shelf in the basement that was ground level and hooked it up to an antenna on the roof. After much yelling back and forth, we were finally able to get WSM and the Grand Ole Opry in all the way from Nashville. I also remember how excited my Dad was when the traveling Grand Ole Opry show came to Chesapeake Beach. My Mom and Dad had a beach house close by in North Beach. He asked my Mom and the whole family at the dinner table that night if they wanted to go. My Mom, who had no love for country music dashed his plans right away. He was so dejected that I spoke up and said "I'll go with you Dad!" So he and I went and it was great! We got to see Floyd Cramer and Johnny Dollar who was playing a Grammer guitar! I was in heaven for those few hours. Dad and I always talked about Country music up until he passed away. I even bought him a subscription to Country Music Weekly which he really looked forward to and devoured upon receiving it in the mail. Dad liked to come to my gigs and whenever he did, I always played Act Naturally by Buck Owens for him - one of his favorites. Back when the Beatles had that out on a single, he heard it on the radio and asked who that was playing Buck's song. I told him it was George and Ringo from the Beatles. He said "Those two should get rid of the other two and strike out on their own."
Jim Bumgardner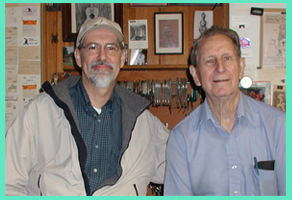 Another great photo of Jim Bumgardner (The older gentleman wearing the light blue shirt) with Zan McCloud. This was the last photo taken of Jim when he celebrated his 84th birthday. Seeing the shop sure brings back all kinds of great memories for me. Jim was without a doubt the best instrument repair guy in the business. Once he laid his hands on your instrument, it just got better. As his son Bill likes to say, the instrument had been Bumgardnerized. I remember the very first time I met Jim. It was 1976, the Bicentennial year, and I had just purchased a brand new Gibson Firebird. I was a huge Stephen Stills fan (still am) and just had to have one of these guitars. The very first time I played it, I wasn't used to the weight of the banjo tuners, and when I took my hand away from the neck, BAM! The headstock headed towards the floor and the guitar fell face first on the ground. The chord jammed the jack back into the electronics cavity and there was an awful gash on the face of the guitar. I was devastated. My friend Mark suggested that I go see Jim over on New Hampshire Avenue so I called Jim and told him my woeful tale. He said, "bring her by and let me take a look at her." This was the start of a great relationship that sadly ended earlier this year. The first time I went in Jim's shop, I saw a photo on the wall of Chet Atkins. Little did I know that Jim had actually done some work on his guitars as well as Roy Clark, and many others. Jim fixed my Firebird and even cut a new piece of pickguard material to cover the blemish. When I went by the shop to pick up the Firebird, he asked me if I wanted to play Segovia's guitar. I thought he was kidding, but he was serious. I was floored. Even I had heard of Segovia and I was in awe at the sight of his guitar on Jim's workbench. The case even had a barometer in it. This guy was the real deal. Jim had the greatest stories to tell. I could listen to him for hours and often did. I only got to play with him a couple of times, but he was a great fiddler and a great guitarist too. The instruments I saw in Jim's shop! The Carl Sandburg Ditson, Nicholas, The Czar of Russia's mandolin, and the F5 mandolin that Jim made himself. It was always enlightening to go by and talk with Jim for a while. He never charged me enough money for the repairs he made on my instruments, so I would take him fresh fish which he really liked to supplement how giving he was to me. After my Mom passed away, I took my grieving father over to the shop and the two of them bonded immediately. Jim and George were both tool guys and they got to talking and I didn't think we would ever leave. The best thing about the shop was the sign on the wall that said emphatically, "We will NOT work on Ovation guitars!" Jim was a pistol! He has either repaired or sold me many of the instruments in this collection.

Acoustic Instruments
1916 Gibson L-1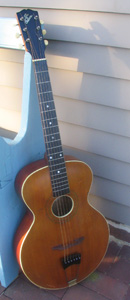 A Gibson L-1 archtop from way back in 1916. It's the oldest instrument I have, and the older sibling of it's sister Mandola. 1916 - the year of the Troubles in Ireland, and Gibson's 14th year as a guitar manufacturer. I had read about early Gibson acoustic archtops and their unique sound qualities, and I started looking for one. I was looking at parlor guitars and have always liked the rounded shape of the old Gibson L-1. I really like the Robert Johnson recordings and the fact that one of the two existing photos of him show him with an L-1. I ran across Vintage Blues Guitars.com and saw that they had a really nice L-1 for sale. Bruce and Tom were only a couple hours away in Lancaster so I called them and drove out on a nice Spring day. I met with these 2 guitar afficionado's and they brought out the L-1. It was in it's original arched case with the original handle in great shape. I love old cases and this one is really nice. I opened the case and did a couple Oooh - aaahhh's, and started to pick on the old gal. She sounded so sweet. Nothing at all like a dreadnaught with a cold. What a great Blues tone it has. Sustain for days and days! Tom showed me his 12 string Stella Gambler before I headed home - What a cool guitar, but I got what I had come for, the Gibson L-1 archtop. It sounds so amazing when you fingerpick an old Blues tune on her.
1918 Gibson H1 Mandola
This little beauty was built by Gibson back in 1918. I bought it from a music store in Carlisle Pennsylvannia called King Louie. The guy on the phone told me they picked this up through an estate sale which would make me the second owner. This mandola has seen plenty of action, and there are quite a few dings and pings on the face of the instrument. The back has been removed and reglued and cleated. Amazingly, it has it's cellulose pickguard which is in perfect shape. The scripted Gibson headstock logo is done in really beautiful mother of pearl inlay which has a deep green hue. The Gibson tail piece is the original one and still has some shine. I got this mandola without a case, so I had one custom ordered through TKL. It's a beautiful tweed case with deluxe brown velour on the inside. I also purchased a McIntyre feather light pickup which has the violin style clamp that fits externally so the mandolin wouldn't have to be taken apart again. I play this one at Irish gigs and with the Outtakes. It has a real nice warm tone and is real easy to play. These old Gibson's are made so well, they really do stand the test of time. This is tuned to CGDA, a fifth down from regular mandolin tuning. It has a rich deep sound while having the little bit wider fingerboard and slightly longer scale length. This mandola plays easily and sounds even better.
1922 Regal Tiple
I started looking at Tiple's after visiting the Martin factory and seeing one. I was taken by the number of strings - 10, and wondered how they arranged the strings to be in four courses. 2-3-3-2! Tuned like a ukulele - and loads of fun to strum, there are many variations of the Tiple and most of them come from south of the border. Martin redesigned the instrument in 1919 and this Regal is built like the Martin version. It's in amazingly fine condition for an instrument built in the 20's. I got this from Ann in Colorado who has a black and white photo of her Mom playing this Tiple back when it was new during the ukulele craze in the 1920's. I named this old gal after it's original owner Agatha so Aggie now lives with me and all my other instruments, and is always close a hand ready to go. I always hear "There Is A Mountain" by Donovan and can't help playing this tune on her. The asking price on a Martin Tiple is quite a bit, and this Regal was very reasonable in comparison. It has a nice original finish - the wood is more than likely birch and the patina is beautiful. There is no headstock logo but there is the Regal label inside the sound hole. I don't have a case for her yet, but have been using a mandolin gig bag to travel with. It's fun to see what my musician friends think of to play on her since everyone seems to have their favorite uke tune. Your fingers are actually wide enough to hold down 3 strings at once!
1920's-1930's Oscar Schmidt Stella
It took me a good while to figure out that I didn't have a Parlor guitar. That was all the excuse I needed so I read up on Parlor's and the name Stella kept coming up in my searches. Since I am a huge Leadbelly fan, the name was all too familiar (second reason to get a Stella, Lead played one). All the famous Blues guys played Stella guitars since they were most available and affordable back in the day. I had purchased my National Triolian from Lenman and he had a couple of Stella's and spoke fondly of their tone. While I was looking for info on Stella parlors, I ran across Neil Harpe's website. This guy really knows about the Oscar Schmidt made guitars, and he lives closeby in Annapolis. He had 3 Browns for sale (Neil called these Browns, but they have the Concert shaped body style). By the time I got to Neil's shop, one of the 3 was already sold, but I still had 2 to choose from. Neil commented that one had particular mojo, and so I bought this mojo laden Stella from Neil. It has the neat decalcomania around the sound hole and the Ladies banner above the bridge. The top was sinking here and there, but boy does this one sound amazing. The birchwood is beautiful and it just has oodles of Blues tone. The finish has really darkened over the years and it oozes it's vintageness through the sound hole when it's strummed or picked. It came with a new Gator case that fits perfectly. I keep it in the living room and fingerpick every chance I get. It has to be the best sounding guitar I own.
1930 National Triolian
A bonafide National Triolian made back during the depression - 1930. This guitar is all original, even the silver resonator cover which dates back to 1931. The cone, the tuners, tailpiece, everything stock from way back when. I got this one on Ebay from my buddy Lenman who is an avid National collector. This one came with the moniker "Wally" since it has the walnut color finish painted on. The paint is still in great shape too, with minimal chipping around the edges. The best thing is the volume and tone this baby has - It will drive you out of a small room. The neck has been reset, but other than that, not much else has been fooled with. I had the Bluegrass Showcase in Catonsville install a Highlander pickup system. This system requires the replacement of the biscuit. It also has a small preamp that you need to run through. It came to me in a clapboard case, so I got a new National hard shell case from the House of Musical Traditions. Wally gets out and about quite a bit since Sookey Jump plays once a month. It really adds to the tonal palette of the band and shines on those folk blues tunes like Muddy Waters "I Can't Be Satisfied." The neck has no radius so its a bear to play. Plus the metal body is quite heavy, but its worth it to get that sound. I also recreated the headstock logo which had peeled off long ago. These sold for $35 back in 1930.
1931 Ludwig Kingston Tenor
Another Ebay aquisition. I had a 5 string Epiphone that I only played occasionally so I gave the 5 string to a friend and bought this Ludwig to use when I play Irish music. It was built in 1931, the last year that Ludwig made banjos. It came with a newer hard shell case. The resonator has some really great decal floral designs which really spiffs things up. There is also some real nice decal marquetry on the sides of the resonator. There are some brass/gold parts, like the handrest on the front. When I got it home, it didn't seem to be very loud, so I took it to my guitar repair man Jim Bumgardner who was thrilled to see this old instrument. He fixed the tail piece which had been broken and repaired incorrectly. Now this thing really screams. The wife and kids and the dogs run from the room whenever I get it out of the case. One of the neatest features is the drum head. It has all the tunes that the original owner used to play with the key signatures included. Cool beans! Many old timey tunes that we all have forgotten. After doing some research, I discovered that the Kingston model was one of the companies lower end student banjos. Compared to what you have available for purchase today, all the little appointments make this a very nice instrument. All the inlays are very striking, especially the slotted diamonds on the fretboard, and the engraved tail piece that proudly proclaims "Ludwig."
1930's Kaykraft Style B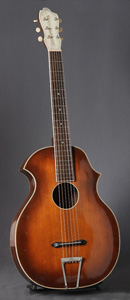 I had read that Ry Cooder really likes Kaykraft Venetian guitars and that has to be one of the best endorsements a guitar can get. After buying the Gibson L-1, I fell in love with the archtop guitar sound and started searching for one of these uniquely shaped guitars. The offsetting points on the upper bouts are great looking and snug up on your thigh like no other guitar. Designed by a violin maker, this is the Style B which has mahogany back and sides with a spruce top. It also has a resettable neck which was quite the innovation - no more neck sets needed! I found this one up north in Ontaria Canada at Folkways Music. If the name of this place doesn't get you, nothing will. I talked to Mark who was great and real knowledgable on these instruments. The Folkways shop set up my Style B with new tuners and bone nut. Here's how Mark describes the tone: This one plays nicely, but mostly, it really sounds great. Thick and meaty mids, round and fat treble strings, good volume and punch, and a nice compliment of overtones that show up as the notes decay. What he said! It's all true!! What Folkways called a chipboard case was in fact period correct and was in great shape. It has the original handle and is super tapered from top to bottom. This guitar is amazing sounding. The neck is wide and wonderful and this is one amazing art deco styled guitar.
1933 Harmony Terz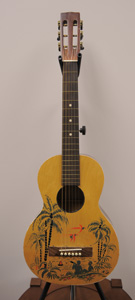 I discovererd the Terz guitar through my reading and researching. It's basically a 3/4 size guitar also called a Baby by many. I was looking on Craigslist and ran across a guy in Vermont named Stephen Chipman who refurbishes old parlor guitars. He takes great photos of the instruments he sells on his front porch. He had this Harmony Terz for sale with the cool Hawaiian scene on the top. It looked like it was very well made and as Stephen put it - "Time Capsule." It came with one of those bottom loading canvas cases that also looked like it was new. This is like the Martin Style 5, but features a slotted headstock with open geared tuners. Yet another great sounding all birch wood guitar. The back has a great patina and a lovely sunburst finish. Terz tuning is G to G - like you put your capo on the third fret. It rings like a bell and is really fun to play (Think Richard Thompson and 52 Vincent Black Lightning). All sorts of tunes come to mind in the Terz tuning. Another great Parlor guitar find and the Hawaiian stencil on the face of the guitar takes you back to the olden days when the ukulele was the instrument of choice for many. These old birch wood ladder braced Parlors have amazing tone and are perfect for fingerpicking your favorite old Blues tunes. I've taken it to gigs and all the guitarists in the room turn their heads when they see and hear this little gal singing out.
1938 Kalamazoo KG-14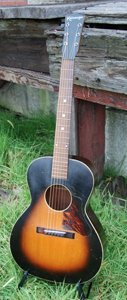 This is a great acquisition story. My buddy Bob's roommate moved out and left some instruments behind - one of which was a late 30's Kalamazoo KG-14, the more affordable Gibson version of the L-00. These were constructed with ladder bracing and no truss rod which makes for a real lightweight guitar with tons of that great old time Blues tone. I bought the guitar from Bob and took it to my buddy Drew Holland who is a great guitar repairman as well as a fine singer and player. The guitar needed extensive repairs to get it back to 100% and in good playable condition. It needed a neck reset, and a top crack cleated. The pickguard had pulled the red spruce top apart yielding a small crack. It also needed the bridge re-glued, some of the frets replaced, and a new nut and saddle too - lots and lots of repairs! Drew did his usual bang up job and the guitar now plays great and looks great. Bob brought the guitar to me at a gig we had at Kate's Irish Pub, and even though it needed all the above repairs, it still had that great tone and played fairly well on the first 5 frets. The guitar has that great looking Gibson sunburst finish and mahogany back and sides. And they say that Robert Johnson more than likely played one of these as his main ax. I can testify that this guitar sounds fantastic and plays easily thanks to Drew. Time for some finger picking "Blues style."
1955 Maccaferri Islander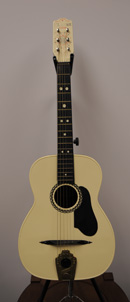 The second plastic instrument in my collection (The other is the National Val Pro). I read the history behind the guitar and became infatuated with Mario Maccafferi's story. This guy was totally amazing - apprenticed as a luthier at age 11, running the shop at age 18, all the while becoming a performing concert guitarist who was in the same league as Andres Segovia. WOW!! Mario worked for Selmer and built the guitars that Django Reinhardt played in the Hot Club Quintet. He escaped the Nazi regime with his reed maker at just the right time and came to America to make reeds, and eventually, Styron instruments. Styron is a pretty cool moniker for plastic. This Islander is certainly a time piece other than the faded headstock logo. It actually sounds great - I have it strung with Silk and Steel strings. It's not real loud which is nice. It's a parlor sized instrument and the quality of build is second to none. The details put into this instrument are pretty amazing. The only metal is in the tuners and the tailpiece. The tuners have "M's" on the buttons, and the tailpiece has a medal with the Maccaferri name emblazoned and tilted upwards. The sound hole rosette is like a spirograph design, and the bridge is very ornate with muti-level cuts. This Islander has the ebony back and sides with the Ivory top. The ebony back has swirls of gold which pop in the correct lighting. This thing is impervious to weather conditions and is a legitimate alternative to a wood guitar.
1966 Kapa Frontier
This was a present from my dear ol Mom and Dad way back in 1966 for my 12th birthday. It was the first really nice guitar I ever had. An honest to goodness dread! I thought I had died and gone to heaven. I remember my Dad and his buddy Andy Korbe took me to Veneman Music when it was located in Silver Spring on Georgia Avenue. They had two of these Japanese built acoustics, My Dad bought one for me and Andy got the other one. The pick guard had come unglued so it was sold for the princely sum of $50.00 - no case. It's been with me ever since 1966. It was probably made in 65, but the Kapa company has long been out of business, so there is no way of knowing as far as I know what the exact year is. The sound has really come around over the past 40 or so years. Its a bit on the heavy side compared to my Martin, but it plays easily and has been a great guitar for me. Its in great shape other than the dime sized ding to the right of the pick guard. That happened the first time I took it out of the house without a case which hasn't happened since. I keep this guitar tuned to DADGAD while it sits in the living room waiting to be played. It is a nice Martin D28 copy. The headstock is very similar to the one Guild uses on their acoustics. It also sports a fancy ornate cross on the headstock. Jim Bumgardner worked on this one way back in the 70's. He put a new bridge on her.
1966 Fender Wildwood 1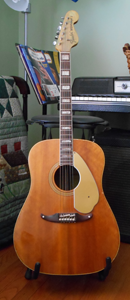 I remember watching Hee Haw, Buck Owens, and Porter Wagoner with my Dad in the basement of our old family home back in the 60's, and just about every Country star played a Fender acoustic, mostly the King and Kingman. Johnny Cash had the Malibu finished in black, but I was always intrigued by the Wildwood series. I have to wonder who came up with this idea? I can hear them scheming now "lets inject colored die into birch trees and we can use these wild colored backs and sides on our Kingman line." These guitars have always been something out of the ordinary, mainly because of the Stratocaster style electric necks which were so skinny and easy to play, and the wacky support rod that holds the neck and end block together. I have the Wildwood 1, or the green model. The sides and headstock are a beautiful shade of green, while the back has the most intense, vivid yellow and green you've ever seen. It certainly is a site to behold. It's a shame these wild colors are on the back of the guitar and hidden while being played. It's a little on the heavy side, but it actually plays super easy and the slim neck feels great in your hands. The tone is very nice and the guitar projects well. It came in the original case which weighs a ton and has extra space in the head cavity to accommodate the 12 string Villager. I had to have the bridge plate repaired, and that's about it. The guitar makes you feel like Tex Ritter when your play her.
1968 Grammer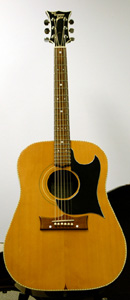 This guitar is the coolest! A bonafide Grammer, and one of the first ones made at the original factory in Nashville, TN. I was looking on Ebay and saw this one up for auction, so of course used the Buy It Now option since this was a real Brazilian Rosewood guitar. It came to me from a guitar store called Morgan Music in Lebanon Missouri. It has a really deep grain and an even deeper larger sound. This guitar was played quite a bit and has the scars to prove it. It sounds so nice you can see why it's been played so much. There are certain amenities that this guitar has that you just don't see on the others. The fretboard has this great double ivory inlay stretching down the entire length on both the bass and treble sides. The pickguard is very ornate compared to most others. That and the bat wing head stock with the same shape repeated in the bridge. It just says "Country" to me. It even has the original case which is in good nick. I sent a photo to Gruhn's in Nashville and George himself offered me $1000 for it. Of course I took it to Jim Bumgardners and had him put a Fishman PU on her. The block inside was fairly thick and Jim had a hard time getting through it, but he perservered and made it through. Plug her in and hear those great tones coming through the amp. It doesn't have the bass end my Martin has, but its a great player. Drew Holland tweaked this to perfection recently and she plays like a dream. A rare American made acoustic.
1970 Martin D-18S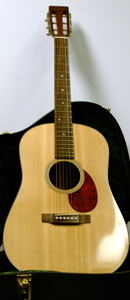 There is something about the tone of a Martin D-18. The mahogany back and sides produce a crisp loud resonance that really makes this one stand out. Once again, my pal and guitar repairman Jim Bumgardner had this consigned and up for sale. Jim had a Bicentennial model finished in red that he thought I would like, but I liked this old gal better. I played this D-18S and was enchanted by the tone. The sound jumped out of the guitar. The strings weren't even new and it sounded like they were. This one is a 1970 and has had some repair work done to it. As I was told by Jim, a microphone stand loosened up just enough to allow the mic to come crashing down on the guitar right under the bridge leaving an awful crack. It was sent back to Nazareth sometime in the 80's and was repaired at the Martin factory. You can see the inserted piece of spruce if you look closely. I don't know if this had anything to do with the tone, but it sure does sound amazing. Could be the larger body size due to the 12 fret neck. The sloped shoulders are reminiscent of Gene Autries guitar. The slotted head stock is a throw back to the old days as well. I got this one in an over sized case. I bought a Martin case especially made for short scale guitars and ordered it through the Guitar Center. It's one of those deluxe Geib cases with the crushed velvet in dark green. It really completes the package. It's hard to beat a Martin acoustic.
1979 Epiphone BG50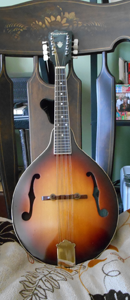 This one is a rarity in the fact that I pretty much didn't pay anything for it. I wish they all were like this one. This is an Epiphone that was made in Japan. I contacted Drew Vance who is the Gibson serial number guru and found out a little bit about this old mandolin. Gibson started making mandolins and banjos in Japan in 1979. This one appears to be made in 1979. As usual with any of the first run Japanese made instruments, this one was built well and is a great little instrument. It has a large sound for an A. It really plays easily and totally kicks butt. It has the original Epiphone clapboard case, but I upgraded to a gig bag from First Quality Music. Where did I get this one? Why it was at Jim Bumgardners of course! I had come across this old Viola that was being tossed out because it needed repairs, and took it over to Jims since he is a violin guy first and foremost. Jim had this Epi laying around and I picked it up and played away. He offered to trade me flat out and I agreed. Jim has since forgotten who he sold the Viola to. I take this one on vacations and its great to have an instrument you don't mind knocking around a bit. It has the blue Kalamazoo label which is interesting, but Drew said that this was what they did. They used old Labels that said made in the USA. I bought a pickguard for it but took it off, and also bought a generic tailpiece since the original was missing.
1988 Flatiron Festival F5
I had a Washburn F5 copy, and it just didn't play easily or sound as good as my Epiphone A that I got for next to nothing. So I sold the Washburn and took that money and put it towards a real deal F5. This Flatiron Festival F is not only gorgeous, it sounds like an expensive Gibson F5. What is really great is that I got this one for a fraction of what you would have to pay for a Gibson. I bought this through the Mandolin Cafe - a popular web site where you can list your mandolin for free and get loads of other mandolin enthusiasts to check out what you have. This one came to me via Toano VA. I had an external Fishman pickup on the Washburn and had Jim Bumgardner install it on this one. Jim sold the Washburn to one of his customers and I switched cases. The Flatiron case had seen better days, and Cheryle had bought a real nice Tennessee Crafters case for a Christmas present a few years back. I am now a happy mandolin playing boy with this fine mando. This thing has enough chop to stand out in any Bluegrass band. It has a unique black top, and highly figured maple back and sides. The inlay on the headstock is beauteous to say the least. I have been playing this at my Irish gigs. I am the third owner and am surely proud to be. Serial number dates this to 1988, Right around the same time that Gibson purchased the Flatiron company.
1993 Gibson J-200 Montana Special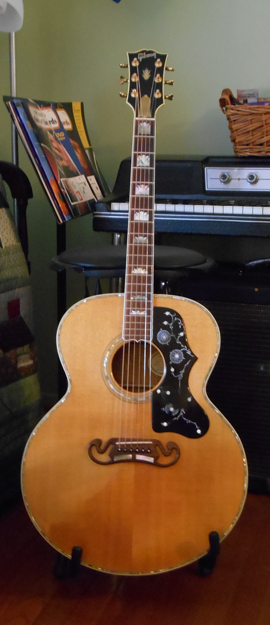 What's the biggest fanciest coolest flat top going? Little Jimmy Dickens and I think it's the Gibson J-200. Anyone who plays an acoustic guitar has dreamed of owning one of these larger than life Gibson's. They just say "this is the one and I mean business!" I started looking for one and ran across this one on Guitar Center's vintage gear site. It has a pedigree since it was made under the guidance of Ren Ferguson in Boseman Montana back when they got things going good at the factory. This J-200 has a plaque on the back of the headstock proclaiming this guitar to be a "Montana Special" edition. This guitar is number 4 of 36 made in late 93, and sports flamey Koa back and sides finished in a beautiful two color sunburst. Koa is a fabulous tone wood and the guitar has fantastic krispy tones. The neck inlays are gorgeous abalone with all the colors of the rainbow in them. If that isn't enough, the perimeter of the sound board and sound hole are finished with the same multi-colored abalone you see on the neck inlays. It's a big guitar with tons of tone and beautiful appointments. It certainly is a Super Jumbo guitar, but it's actually fairly light. I feel like the King when I play the King of the Flat top guitars. All this and the cool as all get out dark tortoise pick guard makes the J-200 a mighty pretty guitar. I'm Ready Ready Teddy to play a set of all Elvis material now.
2000 Martin D-41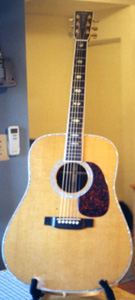 I bought this Martin at the Washington Music Center in 2000. I had wanted one of these ever since I played a D28 back in high school. Never thought that I would be able to afford such an expensive guitar. I put all my band money aside for a year before I took the plunge. Good thing Martin takes 6 to 9 months to assemble one of these. That gave me the best part of the next year to get the rest of the dough to pay it off. But I did a month before it was shipped to Chuck's. This is a custom shop guitar that didn't go through the custom shop officially. I had them put the same toner that goes on the D-42 on this one. I also had a Goldline pickup installed at the factory. Since there was an extra 9 mos. to play with, I went ahead and had the factory install Martin engraved tuners. So this is sort of a D 41.5. Martin had trouble with the laquer they used and this was the reason for the extra build time. I had told Chuck Levins that I wanted a luggage style case, but this guitar came in the plastic case. Chuck's took a custom shop D28 out of its custom shop case and gave it to me. So this axe has a beautiful case to boot. I sold a mess of old CD's which helped me scrape some of the money together. The bass response on this dread is just fantastic. I wind up playing bass with it in my trio. This is my main, number one, bestest acoustic guitar. A real hoss!
2001 Weber Octave Mandolin
I ordered this mandolin from the Weber company on that fateful day, September 11, 2001. I had been thinking about getting one of these big mandolins, and that event pushed me over the edge and made me take the plunge. This definitely took my mind off of all the misery that was going on that day. Now there was something to look forward to. I placed the order through Elderly Instruments of Lansing Michigan. They put me in touch with Weber and I got a custom ordered Sage II done in beautiful chocolate brown finish with a Mcintyre pickup installed at the factory. Since it went through the Weber custom shop, I got a fantastic Weber gray custom shop case. It even has an oxblood handle - way cool! This is a fine sounding instrument. It makes you use your pinky on your fingering hand - no way to get around it. It has the brekker bridge, and a neato Celtic knot design on the peghead. And of course this usually only gets played when there is Irish music to be played. It really has that Celtic sound going on. Deep and droney. The folks at Weber messed up the finish on the first one they had designated for me. They are a great company that made another from scratch again just to get it right. It took about 8 months since it was a special order with the chocolate finish. The binding is usually black on these. Since this one has a dark finish, the binding is cream colored.
2002 Taylor W65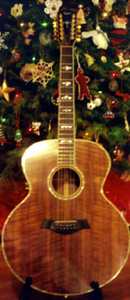 This one had been sitting at the Washington Music Center since they put in the acoustic room. It was purchased as a new old stock item and was built in 2002. I had been picking it up and playing it ever since Chuck Levins had put it up for sale. It is such a beauteous guitar - extremely flamey Claro walnut with gorgeous inlay work on the frets and headstock. Mother of pearl around the sound hole rosette and the top of the body. Its a brute in size, but it plays as easy as most 6 strings. It's a huge guitar with an even huger sound. This came with the Taylor luggage case. The case is almost as nice as the guitar! I may sell the guitar and keep the case (no - just teasing)! I have been playing this in my Irish duo, usually tuning it to DADGAD to get that Celtic feeling happening. I also use it in the trio tuned regularly. It really shines on the Leadbelly numbers, so it also goes out to my Blues gigs as well. Tune those bottom strings down to a low D and off you go! And don't it look pretty in front of the Christmas tree? Who wouldn't like to get this from Santa on Christmas morn? Gold hardware accents all the other adornments. I love my Martin's, but anyone who plays an acoustic will tell you - you got to have a Taylor! I had Jim Bumgardner install a Fishman pickup. It was an easy job for the master. Maybe someday I'll be King of the 12 String!

Electric Instruments
1949 Epiphone Zephyr Deluxe Regent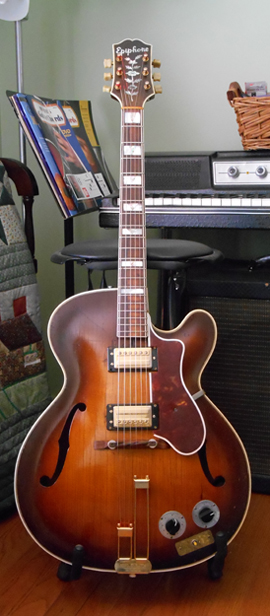 I sure do like the Epiphone guitars that were made when the Stathopoulos family owned the company before Gibson bought them in the late 50s. They went the extra mile to outdo their competitor's and it really shows in this Zephyr Deluxe Regent. I had been eyeing the Casino's and Riviera's made by Gibson in the 60s, but the prices on these guitars were and still are very high due to their association with the Beatles. In my opinion, the really great Epiphones are the ones built in New York by "Epi" and his brothers. I looked for a few years before I ran across this old gal which I found in Pasadena, Md from a drummer named Lonesome Lee. He had her up for sale on eBay and I watched the price go down enough for me to place a bid. I was lucky enough to win the auction and I drove to Lee's to check out the Epi Zephyr. It was pretty beat up, but played and sounded great through Lee's old Epiphone amp. The oversized old style headstock logo is beautifully inlaid, and the neck inlays are really beautiful and intricate. Gorgeous pearl with triangular abalone insterted in the pearl - just beautiful. The guitar had the original New York pickups removed and replaced wit 60's Guild humbuckers which are awesome pickups. This guitar was previously owned and extenstively played by Roy Coleman, a jazzman from Cincinnati Ohio. He bought the guitar in 1950 at Harvey's House of Music in Mansfield Ohio. The guitar came with its original case.
1955 Guild X-50
This is an unbelievable mint condition Guild X-50 built in 1955. Its almost as old as I am, and it looks to be in much better shape than its owner. I got this one from my buddy Pat when he was in dire need of some cash. The condition is flawless, and you can tell its an older Guild by the scripted painted on logo on the headstock. This was made in Hoboken, New Jersey before the company went with the Chesterfield logo that you see on present day Guilds. The story goes that Pat was painting a house in Bethesda, and the elderly woman had him go into her attic to get something. Pat saw the guitar case and looked inside to see this sparkling old guitar. He made a deal with the woman to take the guitar as partial payment on the paint job. I had a 1958 Guild T100B which I sold when I got this one. The single P-90 sounds great in the neck position. You can get a lot of different tones by picking closer or further away from the pickup. The old TV style knobs are a hoot. This is one mighty rockabilly guitar. It came in a really beat case, so I looked and looked on Ebay until I came across someone selling a X-50 case which Cheryle bid on for me since I was at a gig. It really completes the package. Although it's made with laminiated maple, it's still a mint 1955 Guild X-50 with the original brown Guild case. It just don't get much better than that.
1957 Gibson ES-350
I have to stop going over to Jim Bumgardners. This guitar belonged to his son Bill. Once again, Jim let me have it for a fraction of what its worth. I couldn't resist. This is a 1957 according to the serial number. You would never know by looking at it - it looks like its brand new. Quite a time piece. Its hard to say what is original and what isn't since it looks so minty. The only thing that's truly been altered is the addition of the stereo set up. This was done some time in the 60's. You wouldn't believe the flame on the back of this guitar. So deep you can get lost in it. A real beauty. There are a couple of small dings on the top, but they are hard to find. The case looks like it went to war. It's the original case and has seen many a trunk and inside of a van. Somehow it has turned to a copper color as opposed to the original light brown. Its still nice inside and adds to the drama when you open it up and see the beauty inside. When I got it, the stereo wasn't working, so off to Chuck Levins it went and now it works great. The pickup selector switch ceased functioning so that was also replaced. I found out that the original humbucker pickups and wiring harness had been replaced at some point in time. You can look like a troll, but when you put this guitar on, all heads will turn. It has that great Gibson tone that we all love so well. I had all the nickel hardware replaced with gold plated so all the hardware is now golden. It surely is one beautiful vintage electric.
1957 - 59 Kay Barney Kessel Artist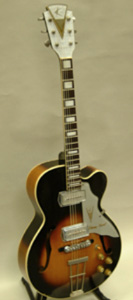 The top of the line Kay guitar! There is another Kessel called the pro, but nonetheless, the Barney Kessel has to be the coolest looking guitar that Kay had on the market. I purchased this guitar from Rumble Seat Music in New York. The price was more than fair. I had been looking at these for the last 3 years quite intently and always gasped when I saw the price. I went ahead and purchased this old Kay sight unseen. Everything is totally original which is fantastic, and the guitar plays great. It even sounds better than it plays. There is no serial number, and the only way to verify the date this Kay was made is to examine the tone and volume pots. But a reliable web site says that these were made between 1957 and 1959. Sometime in 1960, Barney Kessel penned a contract with Gibson to allow them to use his name. Kay still made these guitars in the 60's, and even though the Kessel moniker wasn't on the pickguard anymore, people still referred to them as the Barney Kessel model. Who wouldn't love this guitar? It is fairly heavy which is one of the downsides. You would think the hollow body would be lighter, but the Kelvinator head stock makes it a tad on the heavy side. It does have it's original Melita bridge and the Kelvinator has a couple of stress cracks to match the finish on the rest of the guitar. It has been played and played and will continue to be by yours truly in the years to come.
1958 Hofner Club 50
Here's a British Beat guitar - The Club 50. The Beatles sure did effect all us young musicians back in the day, and John's Aunt Mimi bought him a Club 40 with the single pickup during the bands formative years. The Club 50 with two its pickups is the less famous alternative that's better suited to today's music. I used to own the Beatle Bass which I sold to get my first Telecaster. It was super light and had the smaller scale. The Club 50 is hollow and light as a feather like the bass. The neck is fairly huge and bat like but it feels good to the hand. I bought this one for a fraction of what it was worth, but the guitar needed lots of TLC - A neck reset and lots of tweaking by Steve Carmody who did all the repairs. The previous owner had treated the guitar badly by using synthetic glue on the old neck reset. He also used a couple of wood screws through the neck in an attempt at making the neck joint more solid. Steve had a fit getting the neck reset, but he persevered and the finished product was another great playing, great sounding 50's electric guitar. Anyone with back problems should seek out this guitar. It is super light, but has a big sound coming out of the Hofner Bar pickups. The bridge is a modern replacement as are the two cup knobs. It's definitely a keeper and a real head turner you don't see very often.
1959 Kay Upbeat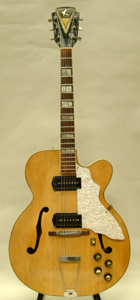 The Kay Upbeat was a less expensive alternative to the top of the line Barney Kessel model. It has fewer bells and whistles than the Kessel. The inlays are nice MOP but aren't as fancy as the BK. This is really a nice old jazz box. The F holes have no binding, but that way cool Kelvinator head stock is on the Upbeat. This is what makes this guitar so collectible. Everything appears to be original. Pickups are the Kay P-90 style with the neato plastic covers. Real nice design and they are a bit hotter than the normal P-90's. This one has no serial number that is visible, but according to what info I have, it would seem that this was made in the late 50's - probably 59. Only way to know for sure would be to take it apart and check the dates on the tone and volume pots. Transparent blonde finish with black pickup covers and a black Kelvinator head stock. It also has the kitschy silver sparkle pick guard. I got this from guitarist extraordinaire Ray Tilkens. He is a fantastic guitar repairman to boot and you can tell that he has layed his hands on this guitar. It has had the frets replaced by Ray, and sometime in the past the neck was reset. Ray said the pickup selector switch was one way to identify the guitar being from the 50's. They switched to another type in the 60's. It also has a newer Gibson style rotomatic bridge, but the original rosewood bridge was also included.
1960 Gretsch 6120
Oh my Goodness! This is THE one. An honest to goodness highly sought after, muy collectible 1960 Gretsch 6120. THE DAWG! I saw a buddy of mine playing one of these back in the early 80's and have lusted after one ever since. They were going for around $1500 back then which I never had. A few years ago they were selling for $6120.00 (cute). Nowadays, its hard to look at the price and not gulp. Anywhere from 6 to 10K. I got this from a guy on Ebay after no one bid on it and the auction had ended. I play it all the time, and it will only go up in value (that's my excuse). It is the real deal. Sometime in 59, they started to make these with less internal bracing which made them lighter and made them sound better. This really has that tremendous rockabilly vibe. Horseshoe head stock and everything. The pickguard is a repro as is one of the pickup surrounds. I found a Melitta bridge and plopped that puppy on there. The thumbprint inlay on the 9th fret fell out some time in the past and was replaced. The Bigsby is a new B6 with the cutout. I have the one that came on the guitar, but I am not sure its the original. The neck has seen many a palm and a lot of the finish is worn away. The orange finish is nice and deep and there is some nice grain in the maple as well. It just has that look. You become the Rockabilly man when you throw it over your shoulder.
1961 National Val Pro 84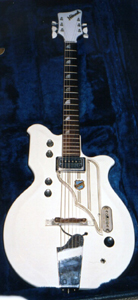 Another Ebay acquisition. I got this from a guy in New Jersey. It was listed improperly so no one bid on it and I got it for a steal. It would be worth much more if I had the form fit case that came with the guitar, but this one came to me in a gig bag. It has such a strange shape, but it actually fit in my Rickenbacker 360 case so that is what houses it when it goes out to play. These guitars are also known as US Map guitars. This thing honks pretty good when you have both pickups working. The piezo style pickup, which is encased in lucite in the bridge (whoah!) sounds fairly laughable by itself. This Val-Pro 84 was one of the first ones made according to the serial number. Many people advertise these as prototypes which is kind of funny. I think they made a ton of these and didn't know what to call them so the ones made before 1962, like this one, are pre Val-Pro 84's. I have seen many of these and the knobs and switches are usually in different positions. The quarter moon neck inlays are a nice art deco touch as is the pick guard made of clear plastic with the National logo. One nice feature is the painted on design on the pickup cover and tail piece. Its all there and in great shape which isn't the case on some of these you see. Everything is original including the Kluson deluxe tuners. Grab a knob in New York, and flip the pickup switch in New Mexico.
1966 Gretsch Nashville
I picked this one up from Jim Bumgradners shop in Silver Spring. One of his buddies had passed away, and his widow took it to Jim's to see if someone was interested. That would be me. When I got it, it had a Gretsch trapeze tailpiece on it and the pickguard was removed. All the original parts were in the case so I put it back like it was originally. It plays great. This has to be one of my favorites. The serial number dates it to 1966, the year after they did away with the horseshoe headstock. The back pad is in fantastic shape. The mute has a little decay, but its all still there. The Bigsby spring is a little wishy washy, but still does the job. It has one small ding on the headstock, and the G string tuner is slightly bent. The gold hardware has lost a little of its luster, but other than that, this 6120 is in fantastic shape. Even the binding is all still in tact. I had one of the reissue Tennesse Rose Gretsch's and sold it to get the dough for this one. Although that was a real nice guitar, this one is really a beauty and plays so easily. The guys at Atomic were after Jim to sell this one to them, but Jim knew I would cherish this guitar and keep it and play it. And he was right. I recorded many of the tracks on the Sookey Jump CD with this one. I have let a couple of my buddies borrow it for recording sessions. The Filtertrons are really fantastic pickups. The case has been painted gloss black, but is the original.
1966 Mosrite Ventures
I got this from Dennis the Mosrite guy. This guitar is one of the last Ventures models as indicated by the serial number. When he purchased it, the guitar was painted white-very unprofessionally. Dennis contacted Semie Moseley's brother Andy, who inspected the guitar and put Dennis in touch with former Mosrite employee Ed Elliott. Ed is one of the few people who can do an authentic Mosrite sunburst replication finish in nitro cellulose. The finish is a dead ringer from the original. Plus with the nitro lacquer it will age well. So it is a refinish which diminishes the value a bit, but its still a killer ax. This guitar features all original hardware and electronics. The pickup wires were cut and respliced together when it was refinished. The solder joints on the pots are unbroken and original. The chrome on the knobs, vibrato and bridge are very clean-the knobs look almost new. The neckplate is very clean as well. Original double line Kluson tuners. The pickups have the sweetest distortion at loud volumes-very low end. I took the guitar to Action Music in Arlington and had a new pickup selector switch installed since the old one was making a good bit of noise. That and I had a new handle put on the case. Some fingerboard wear in spots along several places but does not affect the playing whatsoever. How authentic can you be when you play Walk Don't Run with this Ventures guitar?
1966 Guild S-200 Thunderbird
The elusive Guild Thunderbird. As cool as all get out! Very hard to find. Very rare! They only made these between 1963 - 1968. This is the guitar with the built in stand on the back also known as the crash-o-matic. The stand is a neat idea, but it doesn't function all that well. The first versions of these had Guild humbuckers, but they switched to single coils in 66. This is a 1966 according to the serial number. The only strange thing about it is the extra strap knob on the lower bout which would indicate that it was used by a left handed player at some point in time. Two notable players used these back when they came out - Zal Yavonsky of the Lovin' Spoonful, and of course Muddy Waters on the Electric Mud album. "What a strange looking guitar" is the comment I mostly hear from people trying to figure out what I'm playing. It has a real nice single coil sound. The phase switch gets you even more tones. This switch activates the two smaller knobs below the volume and tone knobs and lets you use the 3 switches on the lower bout. The Hagstrom Vibrato functions well. I had a hard time finding a case that would fit this guitar since the body shape is rather bizarre to say the least, but I eventually found an old EKO case which is white and gray and from the 60's. It really completes the piece. It has a fancy Phoenix Thunderbird inlay on the asymetrical head stock. A rare bird indeed.
1967 Hagstrom Viking II
I play Night of 100 Elvises in Baltimore every year. It's a great musical event and for a good cause - Johns Hopkins Childrens Charities. I started looking at the Hagstrom Viking because Elvis played one during his 68 Comeback Special. I thought it would be way cool to have a red Viking just like Elvis. Turns out that anyone who has a red Viking II for sale is in on the Elvis connection and wants a small fortune for a red one. I ran across this auction that Lonnie (great guy) was putting on and watched as no one wanted this beautiful guitar. The price went down a couple times and I got her for a steal. Lonnie had put Seymour Duncan Humbuckers on her so the original pickups were long gone, but Hagstrom used humbuckers on the later made models from the 70s'. I had some gold covers put on and she really looks royal now - lots of gold touches on the tuners and tailpiece as well as the raised headstock logo. This is a top of the line Hagstrom of which not too many were made - a fairly rare Swedish bird. It has beautiful block inlays and the fast Kings neck Hagstrom is known for with the I-beam truss rods that never flex. Gorgeous book matched spruce top. I was thinking about refinishing the guitar in red, but the finish is so beautiful just like it is. I played her at last years Night of 100 Elvis show and no one said a word to me about the guitar. Oh well!
1971 Gretsch Tennessean
Yet another Ebay purchase. I got this from a guy in Iowa who was selling it for a friend. My dear ol Mum loaned me the $$ to purchase this one. This is a 1971 which was one of the last years they made the Tennessean at Gretsch's Brooklyn facility. Baldwin bought the company in 1969 and HQ was moved to Chicago. The Brooklyn factory continued to make them until 1972. The case says Brooklyn Chicago on it. Its a really cool case with the shower curtain covering. The handle was falling off so I had another put on by a local leather repair shop. The binding on the bass side was deteriorating badly. I had this repaired by Steve Carmody on Flower Avenue. He did a great job and managed to match up the aged yellow color. It looks pristine now. The wood grain and finish are super. Bigsby is tight and the original. Original roller bridge is in the case and was replaced with a Gibson tune-o-matic. One of the coolest things about this guitar is the actual payment booklet the original owner took great strides in keeping up to date. It cost about $450 in 71. Right now its strung with flat wound strings which really gives you that Beatle sound. Shades of George Harrison! The HiLoTron pickups yield a chunky tone that is perfect for British Invasion tunes. Pickguard is original and says Chet Atkins on it, so you know its the real deal. Thanks Mom!
1990 Rickenbacker 360
Der Rickenbacker! Not made in Germany, but made in the USA by an American German fellow. I always thought these were made in Germany since the Beatles played them, but no, somehow one got over to Germany back in the 60's and Lennon got his hands on it. It certainly is a pretty guitar. The shark teeth inlays, the bi-level pickguard and the cats eye F-hole all make this a very striking ax. This is the 360 model in Jet-Glo (black) finish. This is the one to play when your'e wearing a tuxedo. It has the cool "R" floating tail piece which is a real bear when it comes to changing strings. I always leave 3 strings on, take 3 off, replace them, and then do the same for the other 3. If you take all the strings off, good luck! Its not much fun trying to hold the floating tail piece while your trying to run the strings through the tuners. But this guitar really is punchy going through an amp. Those single coil pickups really scream. I like playing this one through my Vox AC-15. In spite of it only having 15 watts, the Rick just jumps out of the speakers. Real nice! The 360 also has the capacity of being played in stereo, or the Rick-O-Sound input jack that's located right next to the regular jack. This guitar has an arched hollow top and a flat backside. This makes for much comfort when you strap it on. Its purty, easy to play, sounds great, and I got it from Elderly in Lansing, MI with a black hard shell case.
2001 Fender Jazzmaster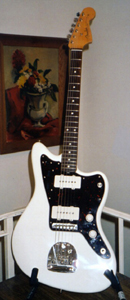 Jazzbabe! This is the name this guitar was given by its previous owner. A guy named Paul from Seattle that I still keep in touch with. He hated to part with this one, so I send him emails letting him know what clubs and gigs the Jazzbabe ventures to. This ax was purchased on Ebay and I used the "Buy it Now" option. Came with all kinds of case candy. Strap, cloth, chord, hex wrench, etc., all in the deluxe brown Fender case. This is a cool guitar for sure. Plays real easily and looks great with the Olympic white finish contrasting the brown tortoise shell pickguard. This is a 2001, 1962 American built reissue. It has the nitro- cellulose finish that's so shiney and purty. There are no issues other than a couple of marks on the neck right below the headstock where it was hung on a stand in the store. This is hard to see, but it was pointed out to me by Paul. I also put a huge ding on the case. The tolex tore when it was going in the truck one day on the edge of a monitor. This guitar really roars when I play it through my Fender Vibroverb. A Fender guitar going through a Fender amp is hard to beat. It has a real punchy tone. I don't think I have ever used it in its jazz (neck pickup) position. I always have it set up on the lead circuit so I can use both of those pickups. The vibrato system is fantastic. You can really do some diving with it. A great surf guitar that holds its own when you play oldies and blues.
2001 Fender Telecaster Thinline
This guitar gets more oohs and ahhs than any of my others. It is so beauteous. The Ash body is highly figured, and the pick guard (mother of toiletseat) is all pearly and really compliments the 3 tone sunburst finish. I had this one at a gig with my 6120, and my 56 Gibson ES 350, and three people commented on how striking it was next to those two beauties. I got this one from Lark Street Music in Jersey. Buzz runs the store there, and I looked at this guitar for more than a year before I went ahead and bought it. He even lowered the price a bit from what he was originally asking. I had a really nice 70 Telly that I played for years, but I had the Gretsch bug for a while and sold it like the fool that I am. I didn't think I would miss it, but I did. I really missed that great tone you get from a Telecaster, so I got this one and I have never been unhappy with the Thinline. It has double binding which also makes it look very striking. That and the F-Hole set it off as one gorgeous guitar. It's light as a feather and has all that great Tele tone. It came with the plastic hard shell case, but I traded that case and some dough for a Fender tweed case that is just about as pretty as the guitar itself. What a piece. This is the one to play if your pulling lead and rhythm duties. You can get some great rhythm tones, and then cut that lead pickup up, and do some picking real close to the bridge for that Tele twang.
2009 Saint Blues Mississippi Bluesmaster
I took a trip to Tennessee with the intention of visiting Memphis, stopping in Nashville on the way to catch a Tuesday Night Opry show. We made it to Memphis and I got to revisit Graceland (the last time was in 72 and E was at home). We also went to Stax and Sun Studios. If you exit Sun and look to your right, you'll see the St. Blues Guitar Workshop about a block away. It's hard to miss with the guitar's headstock done in neon protruding from the storefront. I went in and talked to one of the guys assembling a Highway 61. He told me about the companies history, and how their new guitars are now US made. I played a 61 South while in the shop and liked the way it felt in my hands. It was nice and lightweight, and the neck just felt right in my left hand. Once I got back home, I started looking for a used St. Blues guitar. I discovered that they were hard to find and not many came up for auction. I played my buddy Cliff's Korean Bluesmaster at a gig and it was incredibly nice. I finally came across a US made Bluesmaster for sale from a guitarist named Joe in Philly. The guitar came to him as just the body and neck. He rebuilt the guitar and added Klein pickups and a Chandler Tone-X. This Bluesmaster was crafted in Nashville and assembled in Memphis. I've been playing it whenever I play a Blues gig. I may never be a Blues master, but this guitar makes me feel like one.
2009 Fender Jazz Bass V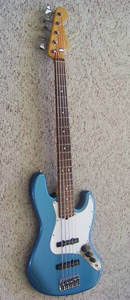 What the heck? This is a bass! What's this big ol' thing with four big ol' strings doing with these slender stringed instruments? It's the Jazzbabe II! My son Ian was playing in a band that had no bassist, so I started looking for a bass for him for his birthday. I came across all sorts of basses that would be a neat addition to the instrument herd. Ian wanted a 5 string bass, and I thought to myself, "don't basses have 4 strings?" I was familiar with 4 string basses and needed to research 5 stringers. I looked at Music Man's Stringray and G&L's ASAT's, but all the guys I play with use Fender basses so I started looking at the Fender V. Jeffcity had a newer one for sale locally on Craigs List so I emailed him and he sent me some photos. The bass looked new because basically, it was maybe a year old. This one has the cool Lake Placid Blue finish with the rosewood fingerboard. All 5 Gotoh tuners are on the top of the headstock unlike the brand new Fender Jazz V. It came with flat wound strings which I love the sound of. I told Ian whatever you do, don't break that 5th string - It probably cost more than the other 4 put together.
These Instruments are not for sale