The The Sky Kings take to the skies playing their unique mix of old and new acoustic music. Eclectic is probably the word that best describes this duo/trio. Requests aren't only expected but invited as the Kings dig deep into the briefcase full of blues to make sure they leave their audience happy and coming back to see them again and again. The Band does a lot of progressive material as well as folk tunes and country. You can expect to hear a little bit of everything when the Kings take the stage.
The The Sky Kings got their start playing high atop the Doubletree Hotel in Crystal City, Virginia. Lenny was working at the Hotel and booked us in the Lobby once a week on Thursday nights. It was a great steady gig that blossomed into an invitation to take the elevator up towards the heavens where Pat and Rob played in the Sky Dome Lounge. At first we were booked as Rob & Friends, but once we played in the Sky Dome we took on the name of the Sky Kings. This was after many requests for "Leaving on a Jet Plane" as the jets would take off from Reagan International.
And yes, the guys took their name from the old western television show from the 50's called Sky King starring Kirby Grant as Sky and his daughter Penny. Some lady that had too much to drink called us a couple of songbirds one night, and you can't say these things around Rob. Our business card features the Flying Crown that was also the name of Sky King's ranch on the show, and the Songbird was the Cessna 310B plane that was the center of attention on the show. The nice scripted text was also on the side of the plane.

The Kings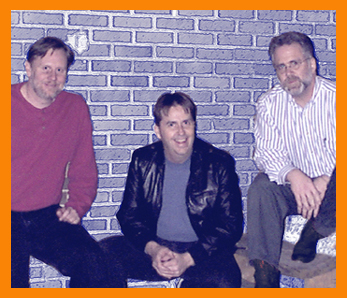 Jay Dennis
Jay (left) is the percussionist of the group. He holds down the beat and plays an abbreviated version of his Drummers Workshop kit as well as congas. Jay gets us our steady gig at the Lakeside Inn in Reston, Virginia, where the Kings hold court just about every month.
Rob Kilgore
Rob (middle) is the lead singer and the one that keeps the other band members guessing as to what the next tune might be. This spontaneity keeps everyone on their toes. He plays his Martin D-41 with the big low end and holds down the bass and rhythm duties.
Pat Puglisi
Pat (on the right) also sings leads and plays lead guitar in the group. He is very adept at throwing in that lick that is just right for the tune. Pat usually plays his custom made Taylor guitar that has that brilliant tone for lead work. Pat also sings backups.

Sky Kings in Flight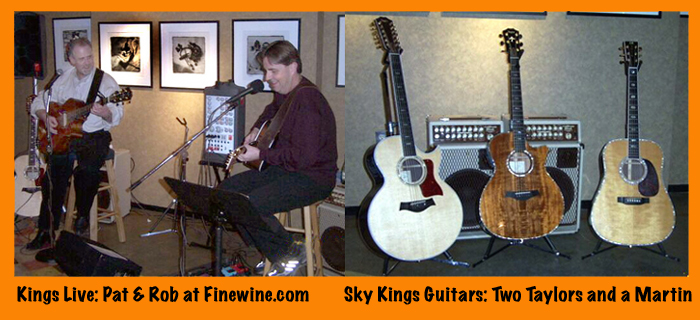 Contact Information
The Sky Kings are circling nearby and ready to land in your neighborhood. We have played weddings, clubs, and private parties. We have a promotional kit and demo we can mail to you. Feel free to contact Jay, Rob or Pat at the following phone numbers and email addresses:
Jay: (Cell) 571-215-1726
email: jaydennis7@comcast.net
Rob: (Days) 301-286-4886 (Evenings) 301-869-2451
email: gilhooly@grammerguitar.com
Pat: (Days) 202-895-5036 (Evenings) 301-414-0095
email: ppuglisi@wtopnews.com